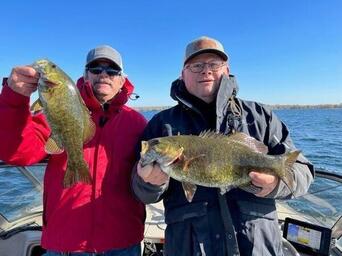 September/October
Hi Guys,
How's your summer been? Ours has been awful! We've had so much rain. This is the first time I have ever seen Lake Champlain completely stained and dirty, and I mean the "whole lake". Needless to say, the fishing has not been good! As you can see though, by these recent photos we did catch some really nice fish, but the quantities weren't there. On the other hand, our Lake Long Pond, has been excellent this summer. Most of the Largemouth you see here are from our lake! But the summer is coming to an end and the fall, which is the biggest fish of the year, " IN ALL MOST ALL SPECIES".
Here are some pictures from last fall. Prime time here is now late September thru early November. It used to be from late August ?
BOOK EARLY
As I mentioned in earlier updates not that long ago we had over a dozen guides that worked with us and it was almost never a problem booking in guys at the last minute, but now it's different, you have to book early cause we only have a few guides left and like a lot of other type's business, we can't find help??!! So, if you are thinking about coming to fish with us, snf you can be flexible on your dates, it would really help. But there is really no problem though, just using meals only packages and just fishing on our lake on your own.
TROPHY FISH
Look at these Lakers and smallmouths we caught this summer. The biggest laker you seen here was a whopping 52 pounds and it was caught by our close client and friend Matt Lipscomb. And you might recognize my son. Casey with a 7.34 pound smallmouth. I would like to say they were caught on Champlain, but the lakers were caught in Great Slave Lake in Canada's Northwest territories, at Plummers Lodge. It has the largest Lake Trout in the world and I highly recommend it!! My son Casey caught the monster smallmouth on the St. Lawrence River in a Bass Tournament this summer. But on Lake Champlain we have great fishing for Lakers and Bass as well. Just not quite as big . And our trips are not as costly and a lot closer!!
Hope to see you soon.
Pete
E-Mail
After all these years we will soon be getting high speed internet. Our e-mail has changed from This email address is being protected from spambots. You need JavaScript enabled to view it. to "This email address is being protected from spambots. You need JavaScript enabled to view it." So please write down our new email now.