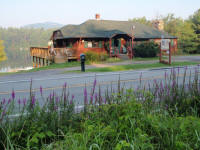 The Adirondack-Champlain Guide Service is owned and operated by your hosts Jane and Pete Casamento. We have been supplying sportsmen with a unique Adirondack fishing experience for over 45 years. Our lodge, Long Pond Lodge, is located on the beautiful shores of Long Pond in Willsboro, New York. The lodge is exclusively for fishermen, fisherwomen and their families who fish. It is not a resort Lodge. The Lodge overlooks scenic Long Pond, which is a great bass and pike fishery, about 1 ½ miles long and 400 acres in size. Presently, we do not supply Guide Service on Long Pond. Centrally located, the guide service has access to hundreds of lake, ponds, streams and rivers of the Adirondack Park, as well as 130 mile long Lake Champlain to explore.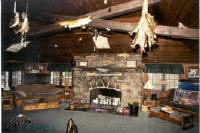 The Lodge serves as our base, from which we can be within easy striking distance of outstanding largemouth bass, trout and pike fishing. We specialize in WORLD CLASS smallmouth bass and landlocked salmon fishing. We also have 14 part-time qualified guides who work with us. The main attraction in our lodge is our trophy room, a huge living room filled with fishing mounts, a TV area and a dining area that overlooks the pond.

Downstairs we have five bedrooms, each accommodates a party of one to four people (we do not mix parties) and we have 3 and ½ bathrooms located conveniently just outside the bedroom areas.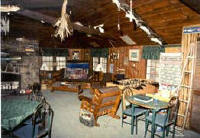 In 2004 Pete Casamento and the Adirondack-Champlain Guide Service were inducted into the New York State Small Business Development Center's "Hall of Fame." The Hall of Fame celebrates individuals who have distinguished themselves and who have significant achievements to their credit and have made outstanding contributions to their communities. These people are "The Best of the Best." Read more about this prestigious honor..

See what other sportsmen have said about their fishing experience with us on our Testimonials page.