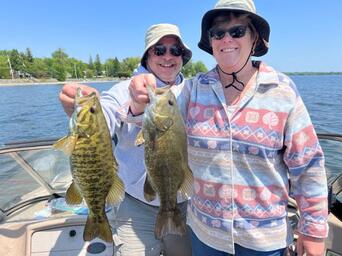 June/July
Hi Guys,
Anyone out there know what season it's suppose to be?! That saying 'IF YOU DON'T LIKE THE WEATHER, WAIT A MINUTE", HAS BEEN SO TRUE THIS YEAR, WOW!! Just before this writing we had a number of days in the 90's. Now, it is in the 50's with heavy north winds and after two days it is still blowing. We've had days, a couple of weeks ago where the mornings were in the 20's and by afternoon it was in the 70's. As you can imagine, the fish are all confused! Even with all of that, we still caught "hundreds" of nice smallies this spring, and as you can see, by this past months photos, many were in the 4 to 5 pound plus range! Also, you can see, the guys caught some really nice Brown Trout in the Ausable, Boquet and Saranac RIvers near us. I think as of today, most Bass are in spawn or post spawn. It looks like the last week or so of June and the first week of July will be the Senko /top water bite, by then they are out of the post spawn and are feeding again, and that usually lasts till mid July and then the Bass go deep and spread out.
LONG POND
Our lake, Long Pond, is really hot right now. Two of our fishermen Eric and Jim caught qnd released over 75 Bass and Pike in the pond just the other day. !!It is a great pond to fish all year!! Long Pond has really good topwater action in the summer. But like everywhere else, the topwater bite is best in the early morning or evening.
OUR SUMMER FISHING
The most "ACTION" fishing in the summer on the big Lake is for Lake Trout. We've been already averaging over 20 Lakers a day now with quite a few over 10 pounds. Not only do we troll for them but we also deepwater "JIG" for them, which is my favorite way. You may also catch Salmon, Browns, and Rainbows. We also do a combination of Lake Trout/Salmon fishing, and deep water smallmouth fishing , as well. This way you can catch a variety of fish, including Walleye now. Here are some photos from LAST summer.
Well guys, I guess that is it for now, gotta get back to the Lake!
Hope to see you soon.
Pete
E-Mail
After all these years we will soon be getting high speed internet. Our e-mail has changed from This email address is being protected from spambots. You need JavaScript enabled to view it. to "This email address is being protected from spambots. You need JavaScript enabled to view it." So please write down our new email now.