LPL Update - February 2013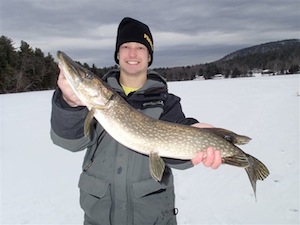 Look at these Fish!

So far we`ve had a great early ice fishing season, just look at these photos from this past month!!! Great Huh?! This will definitely be our busiest ice fishing season we`ve ever had, mostly because we`ve had "ICE"!!
As of this writing the only weekends we still have open for ice fishing is the last weekend in Feb and the first weekend in March. So if you are planning on coming, let me know as soon as you can!!
High Arctic Adventures
As most of you know every summer I go up to fish with my friend Joe Stafanski who along with his wife JoAnn own High Arctic Adventures. They have two fishing lodges, one in middle Quebec and one in northern Quebec.
Lake Ternay
Lake Ternay, which is about an hours float plane from Labrador City has great brook trout, lake trout, salmon and tremendous Northern Pike fishing. Really, there is no need to go to western Canada for big pike cause there are big pike all over the place up there!! You can catch almost as many from shore as from a boat?! The pike average 10 to 20 pounds and we`ve caught them up to 30 lbs.
My daughter Crystal, on her second cast, caught a 49 inch 30 lb pike!!!
The best time for pike action is july and august. If it is big brookies and Salmon you`re looking for, I suggest June, late August and Sept. There is always a good supply of big Lakers all summer there. To get there you can take a plane from Montreal, or if you are more adventurous,take the scenic drive to Labrador city And then take the float plane to the lodge. Check out these photos from Lake Ternay!!!!
Diana Lake
Diana lake is the location of Joe`s northern most lodge. There are no Pike there but the area has the most incredible Brook trout, Lake trout, and Arctic char fishing anywhere in the world. Actually up there they don`t call it fishing, they call it "CATCHING"!!! Hahahaha!!! If you come in the months of August and September, You will have a Big Beautiful Brookie on almost every cast ,and all between 2 and 5 pounds, and up!!! The lakers go to over 40 lbs and they are caught right on the surface and many are caught "casting". There are also big "Arctic Char"there! They hit like a "freight train" and their colors are out of this world. Just take a look at these photos!!!
Unlike most places fishermen go to now-a-days, when you or your group are at Lake Ternay or Diana lake, there is "noone" else there, probably no within a hundred miles or more!! There are very few places anywhere that are as remote as these and that goes for many places in Alaska. Yet, these Camps have all the comforts of home. If you are looking for that once in a life time fishing trip, "THIS" is the Place!!!
Check out the High Arctic Adventures link on our website for more info. If you decide to come up there, I hope you guys come when I`m there , I guarantee we will have a great time!!
Book early for Spring Bass and Pike
If any of you are thinking of coming to fish with us this year, especially this spring, book as soon as you can. Also remember, the weekends book up much faster then the week days. The sport shows are coming up in a couple of weeks and that`s when our calendar fills.
The 2013 shows are as follows:
Oaks, Pennsylvania- February 14th through February 17th
Suffern, New York – February 28th through March 3rd
Providence, Rhode Island – March through March 10th
Bye for now everyone , hope to see you soon!!
Pete