LPL Update -April/May 2023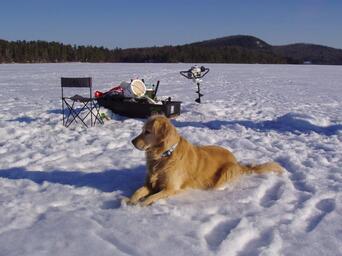 April/May
Hi Guys,
ARE YOU READY FOR A NEW YEAR, I KNOW I AM. SORRY TO START THIS ON A SAD NOTE BUT OUR LODGE DOG , AND MY BEST FRIEND AND BUDDY, "JACK" JUST PASSED AWAY. HE DIED WHILE DOING HIS FAVORITE THING, " FETCHING STICKS" WITH MY GRANDBOYS. JACK WAS A GREAT DOG, EVEN THOUGH HE WAS A FAILURE AT BEING A WATCH DOG AND HUNTING DOG. OUT OF ALL THE DOGS I'VE HAD IN MY LIFE, HE WAS THE MOST LOVIN' AND GENTLE DOG, AS MANY OF YOU GUYS KNOW. HE JUST LOVED "EVERYONE". MANY A "NON" DOG LOVER, ARRIVED AT THE LODGE, AND LEFT, "WON" OVER BY JACK. IT IS TOO BAD THAT THE "UNWAVERING" LOVE AND DEVOTION "GENE" IN DOGS, IF THERE IS SUCH A THING, CAN'T BE IN ALL HUMANS! WHAT A WONDERFUL WORLD THAT WOULD BE,HUH?!
READY TO GO
I AM HAPPY TO TELL YOU THAT ALL OUR ICE AND SNOW IS GONE AND OUR FISHING SEASON WILL START WITHIN THE WEEK. WE ARE COMPLETE BOOKED FOR MAY, NOT A SINGLE DAY OPEN. FOR JUNE, WE STILL HAVE SOME DATES OPEN, SO IF YOU ARE THINKING ABOUT COMING UPTO FISH WITH US THIS SPRING, CALL ASAP. NO MATTER WHERE YOU LIVE, SPRING IS THE TIME OF YEAR FOR THE "MOST" ACTION, IN ALMOST ALL SPECIES. OUR SPRING FISHING USUALLY LASTS THRU EARLY JULY. BESIDES BASS FISHING, JUNE, IS THE BEST TIME FOR PIKE, TROUT, AND SALMON. HERE ARE PHOTOS FROM LAST SPRING.
WELL, GUYS, THAT'S IT FOR NOW. THE NEXT UP DATE, I'M SURE, WILL BE FILLED WITH PHOTOS OF YOU WITH SOME GREAT FISH!! LET'S PRAY FOR GOOD FISHING AND "LIGHT" WINDS!!
Bye for Now
Pete
E-Mail
After all these years we will soon be getting high speed internet. Our e-mail has changed from This email address is being protected from spambots. You need JavaScript enabled to view it. to "This email address is being protected from spambots. You need JavaScript enabled to view it." So please write down our new email now.