LPL Update -Feb/March 2023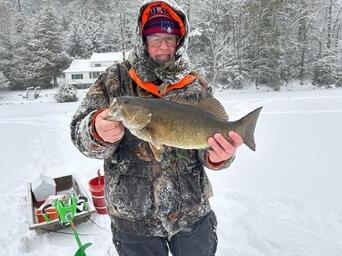 Feb/March
Hi Guys,
I hope everyone is happy and healthy. After a rough couple months , Jane is back of the mend. Just a week or so ago she was in the ICU with internal bleeding due to interaction with heart and chemo medications?! But now she is much better!
Weather
Looks like another year of weird weather, huh.?! Just Like you , we've had extremely warm weather?! Not nearly as warm as yours, but, warm for "us". As of this writing we have over a foot of ice, but for this time of the year it should be more like two feet.?! The extended forecast is for much colder weather so hopefully we will have ice thru March, which for us is normal. Right now, a foot of ice is only going to last thru February? Here are some of the photos of our ice fishing from the past couple of weeks.
SHOW TIME
End of an Era
Very sad to say, but after almost 50 years, the WORLD FISHING and OUTDOOR EXPOSITION at the Rockland County community Collage, is NO MORE??!! It was one of the largest "PURE" hunting and fishing in the country, And was the standard on which all other sport shows were measured. At one time it produced over 75% of our clients!
We are still attending the Philadelphia Fishing Show on FEB 17TH thru the 19th at Oaks, PA, and will probably be the last show we will ever attend. I guess it is a "Sign of the Times",huh? Hope you guys can see us there?
E-Mail
After all these years we will soon be getting high speed internet. Our e-mail has changed from This email address is being protected from spambots. You need JavaScript enabled to view it. to "This email address is being protected from spambots. You need JavaScript enabled to view it." So please write down our new email now.
Bookings
If any of you guys are thinking of coming up this "spring", please let me know "before" the shows, cause there aren't many open dates left?! Well guys, I guess that is it for now, hope to see you all at one of the shows ,or up here for some ice fishing!!
THANK YOU
Bye for Now
Pete