LPL Update -Winter 2022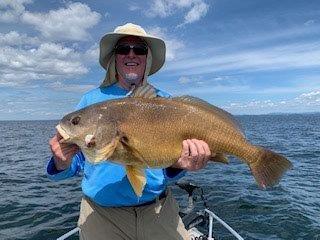 June
Hi everyone,
In case you were wondering, yes, we`re still here! We`ve been battling some health issues here and that is why I haven`t sent an update in a while. Jane has been going thru Chemo treatments for the past month or so, but she seems to be doing good! If I`ve missed any of your phone calls in the past couple of months, I am sorry? Please call again, OK? It has been a little hectic here?!
Looking Back
2022 started out great. Our months of April and May were the best we had in a long time. We caught a lot of quality fish in almost all species. We had good steady temperatures right thru the end of May. June was much warmer and was the hottest month of the year and the fishing was slow. Surprisingly July was much cooler, in the 70s and 80s, and the fishing was good. The summer was normal with good catches of trout and salmon and it stayed in the 70s and 80s. As a matter of fact, as I mentioned in the last update, we definitely had the best weather in the country. Except for heavy winds, we had no drought, no fires, no floods, no tornadoes, or hurricanes! The fall though, was very disappointing?! The weather stayed in the 70s and 80s right thru early November and we didn`t really get our "FALL BITE"?! Just too warm?! But as you can see here, we caught some big ones !!! We just didn`t get the numbers?
ICE FISHING
Even now, as of this writing, it is still too warm?! Right now we should be out back behind the lodge, Ice fishing? It is starting to ice up though, so I`m hoping to be out there Christmas week. Here are some of the photos from last years ice fishing season. All these fish were caught right behind our lodge, the most "action" lake you can ice fish! Long pond has bass, pike, perch, crappie, and sunfish. Just a few miles down the road is Willsboro bay, which is a part of Lake Champlain and it has trout, salmon, perch and smelt. Our ice fishing packages are just for those who stay at our lodge.
SHOW TIME
Finally, this year we are back doing the sport shows!! We are only attending 2 this year, the Philadelphia fishing show at Oaks, PA, Feb 17th-19th and the World Fishing and Outdoor Expo in Suffern, NY, March 2nd - 5th. We`ve been doing the Suffern show almost as long as we have been in business, believe it or not, it`s our "45th" year!???
ICE FISHING SPECIAL
Once again this year, we are offering an ice fishing special for those who have never iced fished before and would like to try it, and for those who just don`t have the equipment.
For just the price of lodging and meals, at no extra cost, I will guide you on our lake. I have all the equipment and will show you how to do it. By the end of your stay you will know whether you like ice fishing or not, and if you want spend the money to get equipment. The only extra cost would be for live bait. If nothing else, Ice Fishing is a great way to break up the long winter!! This offer is good as long as I am not at one of the shows I mentioned.
GIFT CERTIFICATES
In case your loved ones don`t know what to get you for Christmas, we have gift certificates?!!! 518-963-7351
THANK YOU
Before I close this update, I would like to wish each and everyone of you, "HAPPY HOLIDAYS" and once again to thank all of you who came to fish with us this past year. And a very special thanks for those of you who have been with us for so many years!!! My family and I are forever grateful.
Merry Christmas and a Happy New Year and lets pray for a great fishing year with winds, at least "under" 20 mph!! Hahaha!!!
Pete