LPL Update -Fall 2022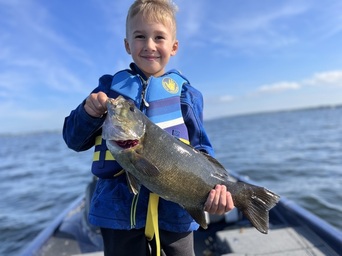 June
Hi Guys,
I hope everyone had a great summer!!!! It was a hot one, huh!! Considering the rest of the country, up here, we had the best weather anywhere. We only had a couple of days that hit the 90 degree mark. We did have quite a few humid days, but not HOT, and we are "NOT" in a drought either, so we've been "Very" lucky!
Looking Back
Looking back over the fishing this summer, we had some ups and downs....The Bass and Pike fishing the last couple of weeks in June was really slow. But most of July was really good, with lots of fish, and they were in shallow water too!!! But then in late July the Bass and Pike went to deeper water and the fishing slowed down. On the other hand, Lake Trout fishing was really good from June right thru August and we also caught a few more Salmon this summer as well. Here are the photos from Mid June right up to now.
THE FALL AHEAD
As of this writing, September 6th, the lake temperatures are starting to drop, so by the end of the month, it should be in the 60's and the Bass and Pike should be coming shallow and really starting to feed up for the winter ahead. The Lakers and salmon come shallow to spawn and feed when the water temps drop to the mid to low 50s, which is about late October. Next to the Spring, Fall is the next best time of the year to catch quantities of fish, but it is the very best time of year for "Biggest" fish of the year, in almost "ALL" species! More 5LB plus Bass, 10Lbs Pike and 10 Lbs plus LaKers are caught in the "FALL" then any other time of the year. Here are the photos from just last fall. Really Nice Ones.
Many of our dates are booked up for the fall but if you are flexible, we can still get you in!! For all of you guys that are booked in with us, make sure you bring plenty of rattle traps, inline spinners, jerk baits, flukes, and spinner baits for the Pike. For the Bass, the same as above plus tube jigs, ned rigs, senkos and drop shot, and you should be all set!!
Well, guys, I guess that's it for now..."LETS GO FISHING". There`s a long winter ahead you know!!
Thanks for all the years!!
Pete