LPL Update -June 2022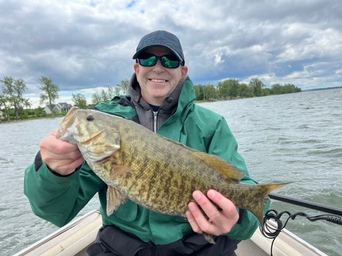 June
Hi Guys,
Well, our spring fishing is finally slowing up a bit, so unlike last months update,I`ll be able to get this one out on time
As you can see, there are a lot of photos in this one! These photos are not from just this month, but extra photos from last month too! We had so many, we could not fit all of them in last months?! This spring we had fantastic fishing for smallmouths and also for stream trout!! As I mentioned last month, we caught and released so many 4 to 5 lb plus Smallies, it was "Phenomenal" !!! After being down for a number of years, our Brown and Rainbow fishing came back in a big way! We caught many fish 12 to 16 inches!
As of this writing the smallmouths are either in Spawn, post Spawn, or past post Spawn. When they are in past post spawn, they are feeding again. Right now they are starting to hit Flukes, Senkos, Jerk baits, Crank baits, and my favorite, TOP WATER! As long as the surface temperatures stay relatively cool, the top water bite will last a while. If we get a sudden hot spell and the surface temperatures get too warm, the fish will go deep for the summer, following the bait.
Our Pike and Largemouth fishing has been good as well, but we haven`t had many guys wanting to go for them so far this year?
The Lake Trout are starting to bite too! We catch many Lakers over 10 lbs now, and what is nice, we not only catch them trolling, but we Jig for them too, and they put up a great fight!!
THE SUMMER AHEAD
This trolling and jigging for lake trout, salmon, and trout is our main fishing thru the summer. Our most popular fishing in the summer is our combo fishing which is part day trout and salmon, and part day deep water small mouth fishing, and we`ve done very well!! Here are some of our photos from last summer.
Long Pond
Our lake behind the lodge, Long Pond, has plenty of bass, pike, perch and crappie. The fishermen who use our combination package or our lodging and meals package are allowed to fish our lake with our boats (not included with our guide service only package)
In the summer months Long Pond offers great early morning and evening fishing with top water. Many of our fishermen now bring their own kayaks and fish many of the hundreds of lakes, ponds and streams we have near by, including the famous Ausable, Saranac, and Boquet rivers.
GAS SURCHARGE
Yes, unfortunately we had to add a gas surcharge to our guided packages, really had no choice?! Right now it is $20. per boat per day, "not" per person, YET?! This will have to be Cash paid to the guide directly. Hopefully we will take it off soon?
THE FUTURE AHEAD
I must say it was really great seeing you all again this spring, I really missed you. It was lots of Fun picking on you again,Lol!!! This is our 44th year in business and we will try to keep going as long as we can. As I mentioned in our earlier update, guides are harder and harder to find? To be a guide, one has to be willing to guide it MOST weather conditions, and it seems like no one is willing to do that anymore? We had 14 at one time! Also, in the past few years we`ve had very few "Young"fishermen come? It seems like very few of the younger generation are interested in fishing. With the shortage of guides, in the future, if guys want to book the months of April, May, June, and Oct, which are our busiest, They might have to book 6 months to a year in advance?!
I don`t know if you guys know this or not, but if you receive this update directly, and you don`t see your photo from the previous month there, just click on the website on the bottom. There are more photos posted on the website and you should find yours there.
Well guys, this is it for now. Hope to see you soon!
Thanks for all the years!!
Pete