LPL Update -May 2022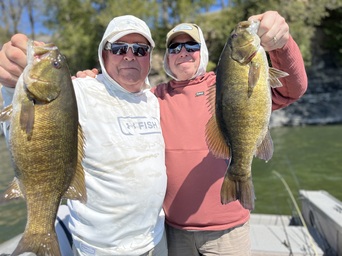 Spring
Hi Guys,
Sorry this update is so late, but working with fewer guides now, and being so busy I just had no time, until right now, to write one up?
The photos you see here are only part of the many we took this past month. I will try to fit the rest in the next couple of updates, so if you don`t see yourself in this months, don`t worry, it`s coming.
This Spring we landed more 4 and 5lb plus Smallies then I can ever remember, and a number, almost 6!! And this, was all in spite of the constant up and down weather conditions we`ve all been going through.
Both the smallmouth and stream trout fishing has been excellent!
We are just starting to catch numbers of Pike and largemouths, so for you guys coming up to fish with us in June, besides finesse lures, like tubes and ned rigs, bring up suspended jerk baits, flukes, swim baits, crank baits, and of course, Senkos.
Also, later in June, we start our deep water jigging for lakers, which is a real fun way to catch em!!
Well guys, bye for now
Hope to see you all soon!!
Pete