LPL Update -Feb2022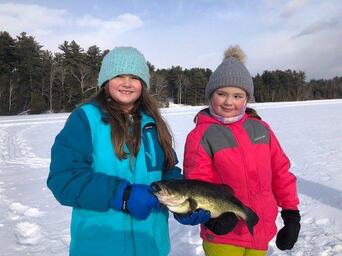 February
Hi Guys
Well, we still have ice, as a matter of fact, almost 20" now!! All we need now is some ice fishermen?! We`ve only had a few parties, covid has hit us too, just too many cases out there and a lot of cancellations! Hopefully it will slow down soon and maybe we will have a decent February? Here are some photos from this past weekend.
NO SHOWS FOR US?!
I know in last months update I said we were going to the Sport shows again this winter, but things have changed? The big fishing show in Suffern NY, at the Rockland County College just announced it is not opening this year. New York venues have too many covid restrictions now and probably will for a while. Also many retailers and manufactures, also due to the covid, had to cancel doing shows because they just don`t have the inventory and have very little to sell?
The fishing show in Oaks, PA is still on for Feb 18th , But, They have no restrictions, "Not Even Masks"??!! So, I really can`t see us sitting at our booth for 3 days with hundreds of people in the building with no masks on?!! So, needless to say we won`t be there this year. As I mentioned before, I really enjoy seeing you guys at the shows each year, but I guess we will just have to wait for one more? But we will see you up here, Right?!
Bye for now Guys and be safe
Pete