LPL Update -Jan2022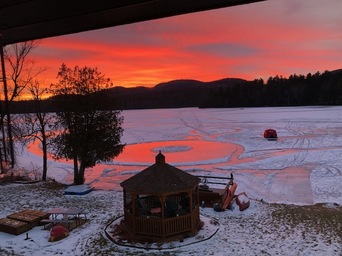 January
Happy New Year everyone!!
I know it is not starting out very well, as a matter of fact, it is more like we are living in a Science Fiction movie right now, don`t ya think?! But hopefully, our world will get back to normal soon?!
WE HAVE "ICE"!!!!!!
It came late, but we have ICE! As of this writing, we have 6 to 8 inches of ice on the pond out back. Champlain has not frozen yet and it probably won`t be safe enough to ice fish for a couple of weeks yet. But we have much colder weather heading our way in the foreseeable future, so we are good to go! Our first ice fisherman of the year J.R. Ai a student at Penn ST, just left for home today. For first time ice fishing, he did well?! Here are a few photos.
Bookings
We`ve already been booking ice fishermen for this season. But, what we are doing, because of Covid, and to be safe, we are only taking one party at a time in the Lodge, whether it is a party of 1, or a party of 10?! And I also think, for now, all must be vaccinated and hopefully get tested before they come up, don`t you?
SHOWTIME
As of now, the sport shows scheduled for this winter are still on. This year we will be attending the Philadelphia Fishing Show at Oaks Pa, on Feb 18th thru Feb 20th, and the World Fishing and Outdoor Expo at Suffern NY, on March 3rd thru March 6th. I hope we are all able to attend the shows. It is always great to see you guys there,it is the highlight of my winter!
SIGN OF THE TIMES
This year will be our "44th" year in business! I have seen many changes in this fishing business over the years, both good and bad, but the most sad and alarming change is going on right now. Each year we are seeing less and less young people coming up to fish. Over 80% of our business are repeat fishermen and most of them tell me that their children and grand children have no interest in fishing, at all?! Even new parties that we booked last year, maybe only 1 or 2 were young? Most parties were in their late 50s and 60s? The same thing is happening to us trying to find new guides to work for us, there doesn`t seem to be any? At one time we had 14 fishing guides, and now we are down to "5"! Out of the 5, 3 are over 60 years old?! Right now we won`t be able to take many multiple parties or big parties as we use to? Now more than ever, everyone will have to book early and/or have several dates in mind.
Well guys, I guess that is it for now. Hope to see you soon!
Pete