LPL Update -Dec2021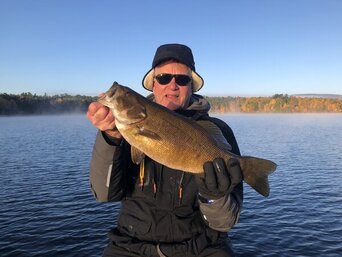 December
Hi Everyone! ,
I hope all of you had a happy and safe Thanksgiving! Nice to be "Almost" back to normal, huh?!.
Since our last update, we continued to have slightly warmer but pretty good weather conditions, with surprisingly, very little wind issues? We had great end of the season fishing in spite of not getting a chance to catch the smallmouths schooled up. Instead of gradually getting colder, the temperature dropped fast and now winter has set in? But, as you can see by these photos from this past month, we still had some great fishing, with quite a few bass over 5lbs plus, and some really nice pike and walleye too!!!
THE WINTER AHEAD
As of this writing, we are getting all our boats winterized and put to bed for the winter. We are just starting to getting some snow and ice, which is way late for this time of year. This cold weather is suppose to continue thru the foreseeable future, so we are still hoping for some fish able ice by Christmas!! If we do have fish able ice before our next update, and you would like to be informed, just let me know and I will e-mail you. As most fishermen know, first ice, and last ice, are the best times for ice fishing! Last year, even with Covid, we did have some ice fishermen come. Here are some photos from last winter.
Specials
we are once again having our ice fishing specials and we are going to the winter sport shows again this winter. Details in our next update!!
By the way guys we do offer gift certificates. You might want to let someone in your family know?
Thank you!
As we end our 43rd year, I would like to take this time to thank each and everyone of you who came to fish with us this year, and a special thanks for those of you who have been with us for so many years. AND, for those of you who have been with us for almost this whole time, You`re "OLD"!!! LOL!!!
Bye for now Guys
Happy Holidays!!!
Pete