LPL Update -fall2021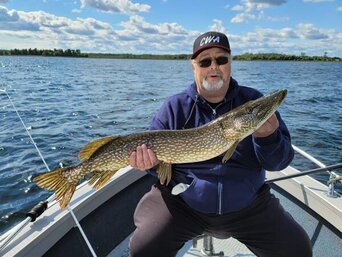 Fall
Hi Guys,
I hope all of you had happy and safe summer.
SLOW SEPTEMBER
Up until about a week ago, it was very slow fishing for Bass and Pike ?! As a matter of fact, it was so slow that our Guides had to switch gears and go jigging for Lake Trout just to save the day, and it worked!! Check out the Laker photos from this past month, we caught many over 10 lbs!! As far as the big Smallmouths you see here, most were caught within this past week, and as of this writing, it is already Oct 13th?! The lake temperatures just dropped to the mid to low 60s, which is late, but it is where we want it, so hopefully in the next update you will see more and bigger fish. From now on I guess we have to consider September as a summer month? Not so long ago it we one of our best fishing months, now it is just too warm?!
FALL FISHING
Fall has always been the very best time of the year for the biggest fish of the year, in almost all species. Most 5lb plus Largemouths and Smallmouths, and many 10lb plus Pike and Lake Trout are caught in the Fall. If any of you were planning on coming up to fish with us this fall and haven`t booked yet, we only have a few dates still open. As of now, we have Oct 17th thru the 20th, and Oct 31st thru Nov 3rd still open.. I am sure those dates will book up fast though. We are closing after the first weekend in Nov this year. In the past few years we had to cancel most trips in that time frame, cause winter set in?! No sense in fighting in Climate Change?! I`ve seen over the past 43 years, that the Springs and Falls are becoming much shorter and the Summers are much longer and hotter, and the Winters are also longer but milder?!
Well guys, the Fall bite is on, so hope to see you soon!!
Pete