LPL Update -Sept2021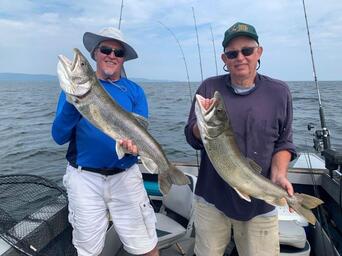 September
Hi Guys,
Well, Hows the summer going for you? These past couple of weeks have been brutally hot and the fishing has really slowed down. But, July was surprisingly good? It was much cooler and the lake temperatures were in the mid 60s, and the fishing was good for both bass and pike, and Lake trout!! Here are some of the photos from this past month or so and as you can see, we caught some really nice Lakers. Quite a few were "OVER 10LBS" , and, many were caught "JIGGING"!! Right now the lake temperatures are still in the 70s, but are dropping fast, so within few weeks, the fall bite here should start!
Lunker time
Next to the months of May and June, October is the next best month for the most "ACTION"here. And fall is the very best time for the "Largest" fish of the year, in almost all species!! More 5lb plus Bass, and more 10lb plus Pike and Lake Trout are caught in the fall, then any other time of the year! In recent years though, our Fall season is getting shorter and shorter, So, I would say our prime time Is October thru early November. Right after that, Winter has been setting in fast?! So guys, if you are planning a fishing trip with us this fall, that`s the time!!
Here are some of the photos from last Fall, Nice Huh?!
Well guys, I hope to hear from you soon!
Stay safe
Pete