LPL Update -Summer2021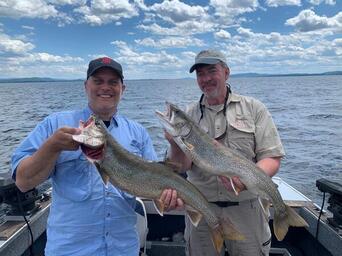 Summer
Hi Guys,
Well, summer is here, I think?! Now-a-days, with the temperatures drastically going up and down almost everyday, It is hard to tell?! You know, the saying, "If you don`t like the weather, wait a minute" is really becoming a "Fact" !!
In spite of the weather, we did pretty well, as you can see by all these photos from the past month. Also look at all the walleyes we caught, more and more every year now!
Right about now the bass and pike are moving to the deeper weed beds, reefs and humps following the bait. Lake Trout are starting to bite too. The other day our guys caught over 60 Lakers, many of them were caught Jigging, which is my favorite way of getting them. A lot of fun!! A number of those fish were over 10 lbs! For the rest of the summer we will be deep water fishing for bass, pike, and Lakers, some times you can catch em all, in "One" outing!! Here are some photos of Lakers we caught last summer.
THE FALL AHEAD
When the water starts to cool again, which is usually around mid to late September, the bass school up again and follow the bait into the shallows, as well as the pike. From then thru early November they are feeding like crazy and bulking up for the winter ahead. Fall is our second busiest time of the year and the best time of the year for the "Biggest" fish of the year in almost all our species. Many 5 lb plus bass are caught then as well as 10 lb plus Pike and Lake Trout!! Our fall dates are starting to book up, so for choice dates, give me a call as soon as you can. THANKS Once again, I would like to thank all of you who already fished with us this year, we couldn`t have been more busier!! It was like the Pandemic never happened, thanks to you!! Also, thank you for sending your reviews on us to Google and Trip Advisor, it really helped us get New fishermen this year, which we wouldn`t have had, cause there were no sport shows for us to attend this past winter to get new guys.
Well guys, I guess that is it for now. Maybe we will see you up here this summer for some deep water fishing? If not, we will see you this fall, Right?!
Take care Guys
Pete