LPL Update -May2021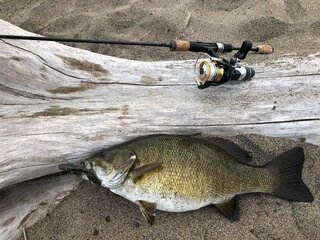 May
Hi Guys!,
LOOK WHAT`S BITING!!!!
believe it or not, less then 2 weeks ago, from this writing, we still had ice?! I was really worried we would have a late opening?! But, record temperatures in the 60s and 70s followed and the Smallmouths came in, right on time! As you can see by these first photos of the year, from this past week, we landed some well over 5lbs!! SO, get ready guys!!
I would like to thank all of you who are coming to fish with us this year. The month of May and most of June is all booked up?!! It`s really amazing, cause we couldn`t attend any shows this winter, cause they were all cancelled ?! But we still booked up, all thanks to YOU!
Another thing I`m excited about is our "walleye fishery" . The walleye fishing here has been down for many many years, but in the past couple of years that fishing has really picked up! When we finally were allowed to open late last spring, we really did well on the walleye!! We were catching them almost every day while fishing for bass, pike and Lakers. I know one day, we landed 10 walleye!! Now, I don`t think their populations are up enough to specifically target them, but they are a great "Bonus" fish!
Well Guys, I know this is a short update, but I am sure next month that update will be loaded with photos of all of you, with fish, Right?! For all of you who haven`t book in for this spring, we still have some openings in June.
Thanks Everyone, see ya soon!!
Pete