LPL Update -March2021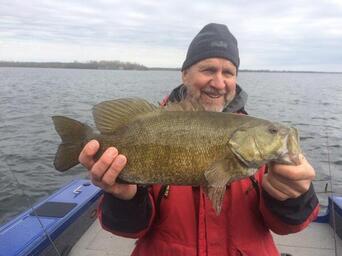 March
Hi Guys!,
Well it looks like I see some "FISHING" at the end of the tunnel!! Up here, almost everyone has had at least 1 shot of the vaccine, so I`m hoping everything will be back to normal very soon.
Even though there were no Sport shows for us to attend this winter, we are almost completely booked up for this spring, which is absolutely "Amazing"!!
Believe it or not, after so many false starts this winter, we finally got good ice just a couple of days ago?! Most of the winter we had snow, slush, and just plain water on top of the ice, so much so, it was almost impossible to get out there?! Now, we have a lot of ice, almost "30 INCHES" Even though it is getting warmer we will still have good ice for at least the next couple of weeks, anyone interested? Here are some photos from the other day.
SPRING DATES
We are officially opening on April 23rd this year. As of this writing, here are the dates that we still have open.
April: 23,24,25,30
May: 9,10,27,28,30,31
June: We still have openings on most week days and we also have the weekend of June 25th open.
We also have a few parties of "one" coming this spring who could use a partner to share the guide service cost with. If anyone is interested give me a call 518-963-7351.
Well since we don`t have many ice fishing photos to show you this month, I`m filling in with last years early spring fishing photos. Opening is only a month away Guys, and I CAN`T WAIT!!!
Bye for now
Pete