LPL Update -Feb2021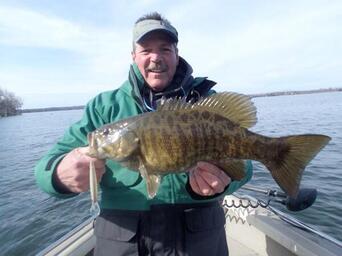 February
Hi Guys!,
Once again, I hope all of you are well and safe and hopefully on your way to getting the vaccine so we can finally get back to fishing, Amen!! Jane and I just received our first shot of the vaccine and by the end of the month the second and we`ll be good to go!
Believe it or not, we just started our ice fishing last weekend, about 2 months late?! As I mentioned in the last update, we lost our first 6 inches of ice in "ONE DAY", at Christmas?! We received another 4 inches right away, but then we got hit with a snow storm which insulated the ice from making more. We were walking on 4 inches if ice with about another 4 inches of slush on top, and about another couple of inches of snow on top of that, which really made it very uncomfortable?! We finally had our normal cold weather and we went from 4 inches to over 18 inches in less then a week?! Here are some of the photos from this past week. Now, just the other day, we had another storm with over a foot of snow and we have 2 more storms coming this week, so it is going to make it tough again?!
"VERY SAD NEWS"
This past month we lost a long time client, fisherman, great friend and wonderful human being, BARRY FARLEY, from cancer. He was only in his early 60`s and has been with us for , almost 30 years!! I`ve had some great and memorable fishing trips with Barry over the years. He has done it all, from fishing all the species on Champlain to fishing the many inland lakes , ponds, rivers and streams here in the Adirondacks . He loved it here so much that he asked his wife , Judy, if she would send his ashes up to me and to spread them on his favorite fishing spots, and he had a lot!! He will definitely be missed by all who new him.
THE SPRING AHEAD
We are anticipating an early season and plan to be opening in mid to late April. We still have openings but they are filling up fast. We encourage you to book early and to stay in touch with the ever changing covid conditions. We will be following all state and local guidelines and are encouraging our clients to do the same. We are all "Chomping at the Bit" to get some time on the water!. Please give us a call at (518)963-7351 to book or to ask any questions. Bye for now Guys, be safe and I hope to hear from you soon
- Pete