LPL Update -June 2020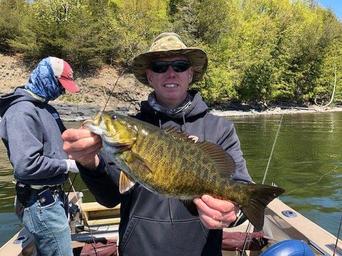 June
Hi Guys,
I hope this update finds you all safe and healthy.
Right now we are in phase #2 of re-opening in our area. Everything has opened up here except hotels, motels, and indoor restaurants. Campgrounds are now open so we are now allowed to guide anyone who is camping! We are not allowed to guide anyone else except for fishermen who are staying at the lodge, until the next phase is opened. Since we are right near the Quebec border, I knew our area had a lot of Canadian business but I didn`t realize how much we had, until I was out on the big lake. It is so quiet out there, that it`s actually very "eerie"??!!
We`ve been open for a couple of weeks now and the fishing has been Great, as you can see from these photos! The weather, as usual now, has been even more strange. One week we had snow and the next week we had temperatures in the "90s"?! But, in spite of that, the fishing was surprisingly good?! Here are the past 2 weeks photos:
LONG POND
Our lake, Long Pond, has been really hot! There has been lots of action on bass, pike, perch, sunfish, and crappie, Check out these photos . You know, with our lodging and meals only package, you may fish our lake with our boats, on your own, so you don`t need a guide, and you will do very well at a very affordable price. There is very good fishing day and night on the Pond right thru July, then it is strictly early morning and evening fishing right thru mid Sept. Then as the water cools, it is back to day and night fishing right thru Oct
OUR SUMMER FISHING
Our shallow water bass and pike fishing, on Champlain, is usually good thu mid July, then the fish go deep. We then fish for them in deep water weed beds, humps and rock piles til the fall. At the same time our deep water trout and salmon fishing starts. We not only deep water troll for them, but we jig for them too. With the invention of the "Spot Lock" on the electric trolling motors, you can now hover over schools of fish and stay there and JIG for them! Very successful way of getting them, it is a Blast!! Now we can offer deep water bass and pike fishing AND deep water trout and salmon fishing on the same day. Here are last summers trout and salmon photos. Some of those Lakers are over 10 lbs!!!
For those of you who had to cancel this spring, you might want to try coming this fall? October thru Mid November is the next best "Action" time and it is "THE" time for the largest fish of the year in almost all species! Everything should be back to normal by then too, we hope?!
Well guys I guess that is it for now. Hope to see you soon?! If you do, don`t forget the mask.
Bye for now, and be safe!
- Pete