LPL Update -Feb 2020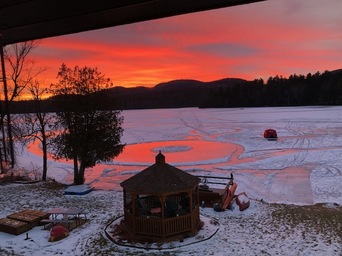 February
Hey Guys!
We still have ice!! Right now, we have about a foot of ice, which is good, but we normally have over 2 feet by now?! Now, the question is , are we going to have an early fishing season since we don`t have much ice to melt, or are we headed for more cold weather like we did last year? I know March and April were brutal last year. I think we will keep our Spring opening to the last week or so of April, just to be sure. Here are some ice fishing photos from the last couple of weeks, it`s been real good!
Shows
This coming weekend, Feb 14th thru Feb 16th, we will be attending a first time show at the Conn fishing and Outdoor show at the Mohegen Sun convention center near Norwhich, CT. I looks like it will be a good one. The Big show, the World Fishing and Outdoor Exposition in Suffern NY, is scheduled for the 27th of Feb thru March 2nd. It is still the best show out there. There is a fishing show that I intend to be at next year , in Oaks Pa that is going on this year Feb 21st thru the 23rd, which also looks like a good one!! If any of you that are going to that show, if you don`t mind, let me know how it is, OK?
Well guys I guess that is it for another update. Looks like we should have good ice for the next couple weeks, so if you want to get some ice fishing in before the season is over, Come on Up!!!
Bye for now and hope to see you soon
- Pete