LPL Update -Dec 2019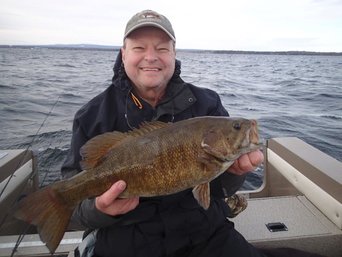 December
Hi Guys,
Well, for the second straight year, our lake, Long Pond, has frozen over before Thanksgiving?! When we first started, many years ago it was the "Norm". Right now we have over 6" of ice on the pond and we are already ice fishing, so come on up!! The big lake, Champlain, should be frozen over in a few weeks.
OUR FALL FISHING
Even though our fall fishing was cut down to less then 6 weeks we caught some really nice fish and the best fishing was in the roughest weather, which is about right, after all, our secret motto is, "you have to suffer to catch fish" But that`s secret, right?! Hahaha!!! We did have to work hard for them, but it was worth it, just take a look at these photos!! Nice Huh?!!!
LOOKING BACK
Looking back over the past few years It seems we have a trend of longer winters and summers with much shorter falls and springs. The prime time fishing for both spring and fall has gotten much narrower now. Climate Change??!!
SHOW TIME
Here are the sport shows we will be attending this winter:
Jan 9th - Jan 12th Oaks, PA
Feb 14th - Feb 16th Mohegan Sun, Conn
Feb 27th - Mar 1st Suffern, NY
I hope all of you can come and see us. Your photos from this past year will be on the table for all to see, and believe me, they are pretty impressive!!
ICE FISHING TIME
As I mentioned, our ice fishing season has started and I am once again going to offer an ice fishing for those of you who have never ice fished before and would like to learn. For just the price of our lodging and meal package, you can come and I will teach you. I have all the equipment, all you have to do is bring yourself. At the end of your stay, you will know whether you like it or not and if you want to invest in ice fishing equipment, or not. If you would like to show the kids some ice fishing, one of the best times to take them is during the Holiday break. The only extra cost would be for the live bait. Of course, only time I couldn`t guide you is when I am at one of the shows I mentioned. It`s a great deal!! Here are some photos from last winter:
THANKS SO MUCH
As we end our 41st year, Myself, my Family, and all our Guides would like to thank each and everyone of you for coming up and fishing with us and especially those of you who have come up for so many years. Some of you have been with us for over 30 years!!! We have some really great memories Huh?!!
Hope to see you all soon!!
- Pete