LPL Update -Fall2019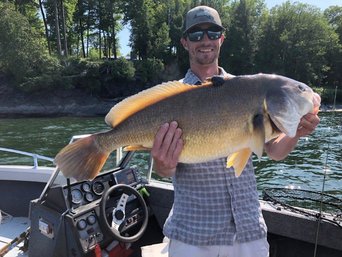 Fall
Hi Guys,
Well, LUNKER time is quickly approaching!! That is the time of the year we catch our biggest fish of the year in almost all species, so get ready!!
Record Summer
This past July was the hottest month ever recorded here and the bass and pike fishing was tough, they were very deep! Lake Champlain`s surface temperature rose to almost 80 degrees?! But now, as of this writing the water temperature has dropped to 70 degrees, so by the time we open up on Sept 20th we will be right on time for the "fall bite". By the way, that fall bite is getting later and later every year?! When we first started over 40 years ago, late August was the Fall Bite? We`ve lost a month somewhere??
Here are our photos from the past month or so. As you can imagine, with those temperatures the bass and pike was slow but we still managed to catch some real nice ones, huh?! Congratulations to Andy Meadows who just caught a monster smallie which was well over 6lbs!!! If you look at these photos you can definitely pick him out. Also in the photos you will see a lot of young anglers which you don`t see much anymore and that is just great!
The bright spot of the summer was our Lake trout fishing! We landed a lot of fish and many over 10 lbs and most of them were caught "Jigging" in deep water. Those photos are also there for you to see.
THE FALL AHEAD
In the past couple of years late Sept has been the start of our fall fishing and as I mentioned it looks like we are right on time again this year.
SMALLMOUTH
For many years, late Sept thru mid Oct has been the best time for topwater smallmouth fishing. Senko type lures, shallow crankbaits , suspended jerkbaits, and swim baits also work very well then. Later in Oct, as the water cools the fish start to go deeper and really start to feed for the winter ahead, putting on a lot of bulk, which results in many catches of 4 to 6 lb plus smallmouths! We then switch to tube jigs, ned rigs, drop shot, and blade baits right to the end of the season which is around mid November. And according to weather, it could be longer?
LARGEMOUTH
Right now largemouths are starting to move to the outside weed lines and into a lot of structure areas such as docks, bridges, old railroad pilings, rip rap areas, and shallow rock piles and they will remain there until the water temps drop below 50 degrees.
NORTHERN PIKE
Most of our biggest pike of the year, "10 to 20 lbs", are caught in the fall and we catch "NUMBERS" too. The big ones come in around mid Oct thru mid November. We use big swim baits, suspended jerkbaits, shallow crankbaits, and spinnerbaits, and use of steel leaders is a must at that time.
If I had to pick a prime time to come up for both bass and pike in the fall it would be Mid Oct to mid Nov time, you usually can`t miss. The only thing that does put a damper on the fall fishing is the "WIND"!! We go out in most days but there are some days we just can`t.
TROUT AND SALMON
The lake trout and salmon start coming to the shorelines around the end of Oct or when the lake temperatures drop below 50 degrees. We then troll for them with light tackle flies, spoons and plugs. we also cast for them along rocky points fro the boat, just as in bass fishing. Mature Salmon make their spawning runs up our river about the same time. These are landlocked atlantic salmon and they do not die after spawning so you can only fish for them with flies in the fall, no snagging or lifting is allowed.
Here are some photos from last fall, NICE HUH?!!
TIME TO BOOK
Well guys this is the last fishing of the year, and probably the best. We still have plenty of openings this fall, but after this update it will fill up fast so if you are thinking of coming this fall let me know as soon as you can, ok? Also for those of you who have tentatively booked and have not confirmed call as soon as you can. 518-963-7351
Well guys I guess that is it for now. Hope to see you up here soon, It is a very long winter ahead, time to get some fishing in before it comes!!!
Bye for now,
- Pete