LPL Update -July2019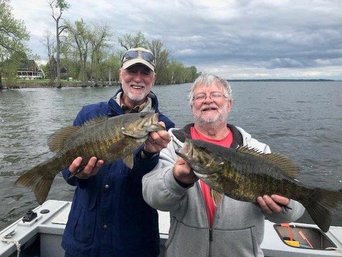 July
Hi Guys,
Well the summer is here, but the fishing conditions are still late spring? The water temps have been way cooler then they should be for this time of the year and the bass are still in post spawn which means "very slow". We are averaging 20 to 30 fish a day, which is still good, but we are picking them up, like "one here and one there" and a long time between fish! We are still catching them on the bottom with jigs and ned rigs. still no senko or top-water bite?! What is going to happen is that it is going to get hot right away and we will go right into summer conditions, which means the fish will head to deep water and spread out. Then thru the rest of the summer we will be catching them on the reefs and humps way off shore. Here are some photos from the past couple of weeks.
SUMMER FISHING
Even though we catch some nice bass and pike in the summer months it is relatively slow, cause they are spread out and deep and will remain there until fall. By far the most action fishing now is for Lake trout and salmon. It is deep water trolling but also deep water Jigging which is a lot of fun and we are catching lakers now over 10 lbs!! This summer we might be getting into some walleye too, since they have been making a comeback this year?!
LONG POND
Our lake, Long Pond, is really good fishing in the summer, but it is mainly an early morning/late evening bite. We have lots of largemouth, smallmouth, pike, and all kinds of pan fish. Any of you that are coming up to fish with us this summer might want to try one of our combination packages, which includes lodging and meals, Long Pond fishing with a boat on your own, then fishing with a guide on Champlain for trout and salmon, all at a very reasonable price. This way you get to fish for all our species of fish in one trip!!
Also this year we have AC for the first time! We never needed it before , but the climate is changing!!
CASEY
For those of you who know my son Casey, here are some recent photos of him in recent tournaments on Champlain and the St Lawrence. In the first four tournaments he placed 1st twice, 2nd once, and 6th! So he is doing well!
His two boys Cade and Corbin are in the photos. The Boys will be ready to guide for you sometime in the mid-2030s!
Well guys I guess that is it for now. The next update will be when the fall bite is on!!
Bye for now,
- Pete