LPL Update -June2019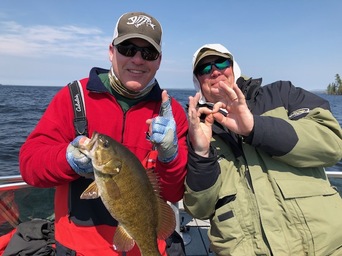 June
Hi Guys,
Look at these photos from just the past couple of weeks!! "Great Huh"!? This spring has been exceptional with quantity of big smallmouths, many in the 4 to over 5lb range. boats averaged over 40 fish a day and a total of over 3,600 smallmouths for the month!!! A special congradulations to Tom Sommers and Roy Bain who caught and released 126 smallies in one day! It was a very cold month with water temps staying in the 40s, much too cold for the Largemouths and Pike to bite. But to our surprise we caught quite a few walleye. It has been a long time but the walleye are on their way back!
Right now, as of June 1st, it looks like the smallmouths are spreading out to their spawning areas and are no longer schooled up, so the baits of choice will be senkos, swimbaits, tube jigs, jerkbaits, flukes, ned rigs, and of course topwater. As the waters warm, the largemouth and pike bite should start soon. Even though we are behind in weather, Mother Nature has a way of catching up. I expect the shallow water fishing to be normal which is right thru mid July then the fish will go deep.
SUMMER LAKE TROUT
In the past couple of years there has been some exciting fishing for Lakers in the summer. Besides trolling deep for for trout and salmon, we have been deepwater jigging for them and we have been very successful. There are quantities of them and some real big ones too!! Many caught over 10lbs!! If any of you are coming to fish this summer, besides fishing Long Pond in the early morning and evening for largemouths and pike, we have a guide to take you out for some salmon, trout, smallies and maybe some walleye too! Might want to try it?!
Here are some photos from last summer:
Well guys that it for now. We still have openings for the later part of June and also into July. That is a popular time to bring up the kids, they are out of school and there is still a lot of action!!
Ok guys, hope to see you soon!
- Pete