LPL Update - December 2018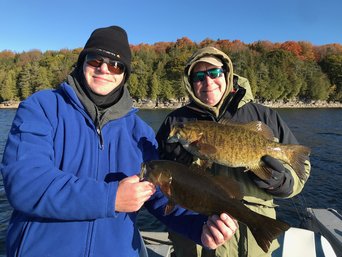 October
Hi Guys:
Believe it or not, but we have ice?!! As of today, the day after Thanksgiving, we have over 4 inches of ice on the pond!! It looks like the ice is going to stay cause there no foreseeable warming trend coming, so, we should be ice fishing in about a week. I need 6 inches before I go out. This will be the earliest ice fishing in a long time! Just think, we were out bass and pike fishing a little over a week ago? The cold came so fast we weren`t able to get our docks out and now they are frozen in?!
LOOKING BACK
This year was the strangest year we have ever had? We had a very long winter and a very long summer and virtually no spring or fall?! I think we had about a month of spring weather and probably a month of fall weather and that`s it?
Fall weather didn`t start until about mid Oct and as i said it was over last week?! In spite of that we caught a lot of great fish as you can see by these photos from this past month. Some real monster fish, Huh? But these photos don`t reflect the tough weather we had to go out in to get them. We had tremendous winds this fall which kept us off the water a number of days. I had to call a number of guys to tell them to stay home, especially guys who were just coming for one day. We use to get 20 to 30 mph winds, now it is 40 to 50 ??!
SPORT SHOWS 2019
Here are the sport shows we will be attending this winter:
The Springfield show at the BIG E in West Springfield, MA Feb 22nd-Feb 24th
The Rockland show Suffern NY Feb28th-Mar 3rd
Many sport shows across the country are disappearing, I believe because of the internet. If I were booking a trip, I think I would prefer to to talk to someone face to face, if possible. These two shows have great attendance and there is a lot to see. You know, by far, the most fun thing doing these shows is seeing you guys there!
ICE FISHING
It is early, but the ice fishing season is upon us. As most of you know our lake Lake, Long Pond, is a great fishing Lake, but it is also a "Great" ice fishing lake with lots of ACTION!! If you have never ice fished before and would like to learn, each winter I offer a special. For just the price of our lodging and meals package, I will personally show you how to ice fish. Then at the end of your stay you will know whether you like it or not and whether you want to invest in the equipment or not. I must warn you though, almost everyone I`ve taught loved it!! The only other cost would be for bait and it would have to be when I am not at one of the shows I mentioned. It is a Great deal!!
Here are some of the ice fishing photos from last winter, all out of our lake.
Ice fishing will never take the place of fishing, but it is fun and it breaks up that long winter ahead!
Well Guys, I hope to see you up here soon for some ice fishing or see you at the shows, or maybe Both?!
Happy Holidays
- Pete