LPL Update - September 2018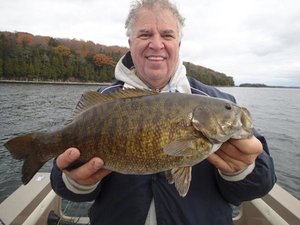 September
Hi Guys:
What a summer, huh!!!!!
Up here we witnessed the hottest July and August on record and it wasn't fun! Lake Champlain 's water level dropped more than five feet in a little over a month. All around us received rainfall and we hardly received a drop. Lake Champlain water temps reached record high's of almost 80 degrees. and that was recorded six feet under, in the deeper part of the Lake, at Burlington, Vt. We actually curtailed our Bass fishing on the big lake until the temperatures start to drop. We really don't want people to come up here just for a boat ride. Unlike the shallower lakes and ponds around us, Lake Champlain is deep and goes down hundreds of feet. The pan fish and game fish go deep,and spread out cause they can, and just finding the is a job.!! On the other hand the deep water Trout fishing was excellent and that is what we recommended to the fishermen who were coming up this summer. The Bass photos you see here were mainly from late June and mid July and the Trout and Salmon from mid July till now. Also, Long Pond which is a Bass and Pike pond, right behind the lodge had really good fishing this summer. There were a number of days where there was more action there, then on the big lake. Of Course, it was strictly early morning and late fishing. Here are some of this summer photos.
Lunker Time
Fall is the time of the year when we catch our biggest fish in almost all categories. I believe the cooling water and the less daylight triggers the fish to start feeding for the winter. That time is getting later and later each year. Although September use to be one of our most productive months, but now it is more like a summer month. We tell guys if they want to come up in September, the later the better....October is like September used to be and November is like October used to be. November is now one of our best fishing months. You also can't go wrong coming in October and November. If I had to pick the prime time in the fall it would be mid October thru mid November. If you had to catch both cold water species ( Trout and Salmon) and warm water species ( Bass and Pike) it would be late October thru November. Last year we were still catching Bass and Pike in December , which was amazing. Here are some pictures from last fall
WWell guys, the fall fishing will be here soon and I hope to see all of you up here. Make sure you bring your top water, jerkbaits, crankbaits,"Ned rigs", spinners, and of course, "TUBE JIGS"!!
Bye for now.
- Pete