LPL Update - July 2018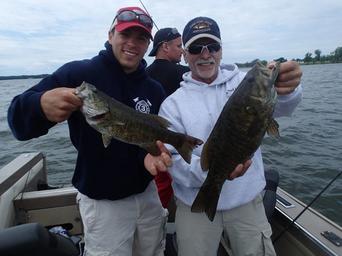 Spring??
Hi Guys:
Well, I guess SPRING is over!!?? Not to much to it anymore, very short. Looks like we just have three seasons now.
Six days of that extreme heat brought Lake Champlain's water temperature up almost ten degrees. I'm sure most Bass and Pike have moved to the deeper waters following the bait. Even though we had a short spring, the fishermen did very well on Bass and Pike. Here are their photos from just the past couple of weeks.
SUMMER
Starting now and right thru September our Bass and Pike fishing will be way off shore on the deep reefs, rock piles and deep weed beds. Lures to use are Jigs, swim baits, blade baits, drop shot and deep suspended baits. Summer fishing for Bass and Pike is not as consistent as it is in spring and fall, BUT, we do catch some nice ones!!
TROUT AND SALMON
On the other hand..our deep water trolling for Lake Trout and Salmon is extremely good. At this time of year, besides trolling, we also deep water jig for them, which is a blast, and It is getting better and better every year. We are catching many Lake Trout and Salmon well over 10 pounds. Here are some Lake Trout and Salmon photos from last summer.
LONG POND
Long Pond has Bass, Pike, Perch and Crappie. Most of the fishing in the summer is restricted to the early morning and in the evening hours, as it is in most places in the country. But there is a lot of great top water fishing on the pond during the summer months.
CONGRATULATIONS
CONGRATULATIONS, to my wife Jane. After holding down a full time job at school, raising two children, and being my co-partner here at the lodge, she has retired from school after 33 years. For those of you have grown with us thru the years, Our two children, Crystal and Casey live nearby. Crystal, her husband Chad and two labs live Morrisonville. Casey and Lena and their two sons, Cade and Corbin also live in Morrisonville along with their two dogs, two cats and handful of chickens.
Watch for some great changes here at the lodge!!!!
Well guess, I guess that it is for now, next update will be "FALL" "WOW". Can you believe it? The year is going fast! If I don't see you this summer, maybe I'll see ya for some fall fishing. Remember, October and November are two of the best fishing months of the year.
Bye for now.
- Pete