LPL Update - May 2018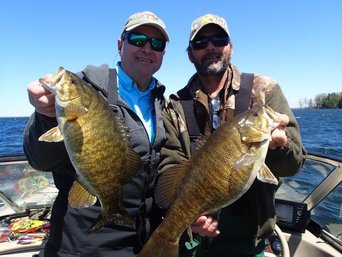 Fish are Warming Up!
Hi Guys,
Well spring is finally here, a month late, but it is here. It was so cold we had to cancel the first two weeks?! But the fish are finally in!! Here are some of the photos from just the past two weeks !! The last couple of days we had catches of 50 to 70 fish per boat per day and we had one catch of over 100 !! Right now it is smallmouths and some Walleye !! It is nice to see the walleyes coming back. Pike, Salmon, and Largemouths should be starting any day now, looks like the weather is going to stay warm from here on out so for all you guys who are fishing with us this spring, you should be good!! For those guys who haven`t booked yet and want to come and fish with us this spring, we still have a few openings on week days June? Here are the photos, NICE huh?!
Hope to see you all soon !!
Pete