LPL Update - April 2018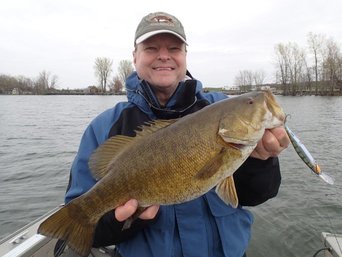 Spring??
HI GUYS
Well another fishing season is about to start, and I can`t wait!!! That was a "l-o-n-g" winter wasn`t it?!
I would like to thank all you guys that came up to ice fish with us this winter and also all of you that came to see us at the shows. It is always great to see you , It is always the highlight of doing the shows! For those of you who have received this update for the first time, and don`t remember why, You signed up for it! Hope you like them.
ICE FISHING
As of this writing, we still have about 15 inches of ice on our lake and the upper and lower sections of Champlain are still frozen also. But the days are getting longer and warmer and the ice will be going fast and we should be ready for our opening April 20th. Here are just some of the photos from the past couple of weeks. The guys did real well in spite of the weather!!
SPRING FISHING
As I mentioned, we are opening the 3rd weekend in April. That has been the earliest date the past couple of years. Years ago, it was April 1st?!
SMALLMOUTH BASS
Those last couple of weeks of April and the first week or so of May is when the big females come in. About a week or so later you will also see the males come in. This is way before spawning and they are "Feeding "!!! April and May is probably the best time of year to catch quantity of smallies, both large and small. They are tightly schooled at this time of year and we actually anchor up on these schools and we might catch dozens of fish before we pull up anchor. In the upper and lower sections of Champlain once June comes, they start to pair up and spawning starts. The middle sections of Champlain and some of the inland lakes which are colder and deeper, they sometimes don`t spawn until late June or maybe even July!
LANDLOCKED SALMON
About the same time as the smallmouths come in, our salmon and browns head to the shorelines and up the rivers and streams to feed. This time of year we troll by flatlining or cast small spoons, rapala type lures, and flies using ultralight spinning and fly tackle Lots of fun!! Believe it or not the #1 way to catch Landlocked salmon in the spring is using a "LIVE" worm !! What is great about fishing the rivers this time of year is that you can catch both salmon and smallmouths at the same time in the same water!!! They are my 2 favorite fish because they "JUMP"!!
PIKE
Northern Pike spawn right as the ice is going out. After the spawn, for the next week or so , they seem to rest and not feed at all. As soon as they are done, about mid May or so, they start to feed like crazy on the spawning sunfish and perch. Shallow suspended jerkbaits, inline spinners, spinnerbaits, and flukes work best at that time. This fishing lasts right into July or so.
Largemouth bass
Like the Pike, largemouths do not get real active until about mid May, and like the smallmouths, They come in in large tight schools. We once again anchor near a school and again, we may catch dozens before we move again. At this time, we throw shallow suspended lures, and a lot of weedless rigged plastics
LAKE TROUT
Even though they are cold water fish, lakers usually don`t come up to the surface or the shore lines until the water temps are in the 50s, which is in the later part of May. We flatline and cast around points and shallow reefs with large spoons, jigs and jerkbaits. When you catch a laker casting, they really put up a great fight. Since the lamprey control was implemented the lake trout have grown real big. Some fish near 20lbs have been caught. That shallow water fishing lasts until the surface temps reach 65 degrees, and then they go deep.
LAST SPRINGS PHOTOS
Here are some photos of last springs catches.
Coming Up?!
As of this writing, we still have openings on weekdays and weekends for the last part of April. We also have some mid week openings in May and June still available. For those guys who would like to take their kids up for some fishing, The last week of June / first week of July has always been great.
THANKS AGAIN
As we start our 40th year, I once again like to thank all of you for making this life possible for me and my family. Some of you guys have been coming almost the whole "40" years!?? ALL I can say is, YOU`RE OLD!! Hahaha!!!
Thanks guys, hope to see you soon.
- Pete