LPL Update - February 2018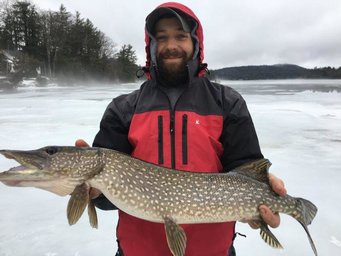 Check Out our February Update!
How is your winter going? Crazy Huh?!! This is first time we had to cancel ice fishermen because it was "TOO COLD"!!! The last week of December and the first week of January our daily temperatures were 5 to 20 below zero and wind chills to "40 Below". Now we are 40 above! One thing is for sure , we will definitely have plenty of ice for the rest of the season. We have over 2 feet of ice already and we will probably pick up another 10 inches or so by the end of March. As you can see by these photos of the last two weeks, the guys are doing good!! Come on up!
SHOW TIME
2018 will be our 40th year in business, and also 40 years of attending shows. We use to do 4 to 6 shows a winter, but most of them are gone now?! It seems more people would rather book online now then talk to someone in person?
The first show we are attending is the SPORTSMAN SHOW at the Big E in West Springfield, MA Feb 23RD thru Feb 25TH It is quite a big show and it has been going on since the early 80`s
The Other show we are at is the WORLD FISHING AND OUTDOOR EXPO in Suffern, NY at the Rockland County Community College March 1st thru March 4th We have been continuously attending that one since "1978" I hope you guys can come and see us, that has always been our highlight in doing the shows, seeing "YOU".
BOOK NOW
If any of you guys are planning on coming up to fish with us this year, especially the spring, and haven`t booked, now is the time. Many of our spring dates are booked a year in advance, and the rest of the spring dates will be booked up at the shows. For those of you who have booked already, and have not sent a deposit or contacted me lately , please call or e-mail me soon, ok?
Well I guess that is it for another update, Hope to see you all at the shows or up here for some ice fishing, OR BOTH?!!
Bye for Now
- Pete