LPL Update - January 2018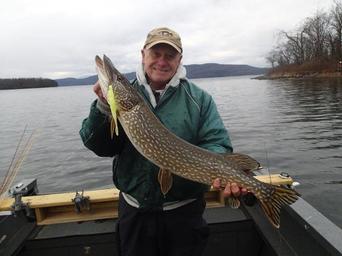 Check Out our Janurary Update!
Well guys, It's ice fishing time AND WE'RE GOOD TO GO!!!!
As of today we have about 4 to 5 inches of ice on the pond. So, by the time you get this update, we'll be out there.
LOOKING BACK

looking back over the past year and the previous couple of years, we can really say the are seasons "are changing". We definitely have later and shorter springs and falls, and much longer winters and summers!! Once again, "NOVEMBER" was our best fall month for BASS and PIKE, not for Trout and Salmon as it used to be. Up until about two weeks ago we were still catching a lot of trophy Largemouths, Smallmouth and Pike. These photos are "just" from this past month. Some GREAT fish huh??!! But you don't see any Trout or Salmon?! All of a sudden the cold came and the water temperature dropped into the mid to low 30's and our open water season came to a close...just like that!!

All and all though, 2017 was a good year with a lot of big fish. We have over 500 photos of you guys with nice catches of fish which will be displayed in our booth at the shows this winter.



SHOW TIMES
We will have a booth once again at the Springfield Sportsmen Show in West Springfield ma. on
February 23 thru February 25
. Then it's the World Fishing and Outdoor expo in Suffern, N.Y. on March 1st thru March 4th. Surprisingly there will " no longer" be a show at Oaks Pa. which is very disappointing to us. Maybe you guys from Pa. can come and see us at Suffern? it is about 11/2 to 2 hours from Philly. We use to do as many as six shows a winter, but most of them are gone now. I guess the younger generation is booking more on line. Personally I prefer to see and talk to someone before I go on a trip. Also there is definitely less of the younger generation fishing these day. Why is that??!!
NEW LURES
In the past few years there have been some real good lures that have come out. The rapala shadow rap series which is turning out to be our most popular suspended jerkbait lure, the Kytec swim baits are another. This year the topwater lure "whopper Plopper" and the soft finesse lure the "Ned Rig", were very impressive to me. They are not going to be one of those "One day wonders" so this winter I think you should be stocking up, because we will be using them next year.
ICE FISHING TIME
For all you ice fishermen who have been calling and emailing, asking when to come up, now is the time. So, get your ice fishing rod, tip-ups and augers ready and come on up. Long Pond and some of our other inland lakes are frozen over. All these have Pike, Bass, Perch, Crappie, and Sunfish. Champlain probably won't be frozen for another couple of weeks. The big lake has all those same fish plus Trout, Salmon and Smelt. So, within just a few miles of the lodge you can catch all these fish. For those of you who have never ice fished, every winter I offer this special.....I personally will show you how to ice fish. I have all the equipment. the only thing you pay for is the lodging and meals package and the cost of live bait if used. The guiding is on "ME", no charge. This way you can see if you like ice fishing or not without having to invest in all the equipment. The only catch is that it has to be when I am not at one of the shows I mentioned. Can't beat that right??!! I must warn you, almost everyone I've taught to ice fish got hooked,and went out and bought their own equipment. It might not take the place of fishing itself, but it does break-up the winter and it is fun!!!! Here are some photo's from last winter.
40 YEARS
2018 will be our 40th year in business!! I can hardly believe it. We must have had fun,cause it went by so fast. There are many of you that have been with us for a very long time and my
family, guides and I "THANK YOU" for all those years and for the way of life you helped us have.
I guess that is it for another update and another year. Hope to see all of you at the shows or up here for some ice fishing, or "both"?!
HAPPY HOLIDAYS
- Pete