LPL Update - September 2017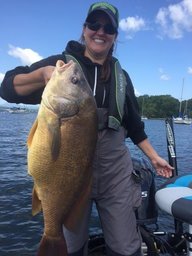 Check Out our September Update!
Well, our summer is finally winding down and the fish are starting to bite. It is still a little slow on the Smallies, Pike and Salmon , but Largemouths and Lake Trout are on!!! It does look like the fall bite will be right on schedule. The water temperatures never got above the low 70's this summer. Here are some of the photos from the past couple of weeks. Many of the Lake Trout you see here were caught "casting".
The Fall is Lunker Time
Fall is definitely the time to come and catch the biggest fish of the year in almost all species.
Smallmouth
By the time you receive this update the Smallie fishing should just be coming on. The past couple of years the Smallmouth bite really started the last week in September and went right thru late November with prime time being mid-October thru mid-November. This is the very best time for our 5 to 6 pound plus fish. Early fall we use top water, suspended jerk baits, creature baits such as speed claws, tube jigs and swim baits. As the water gets cooler, we start using drop shot, heavier tubes jigs, heavier swim baits, and also blade baits.

Large mouth
In that same time frame Largemouths move into areas where there is more structures, such as docks, railroad piers, car bridge pilings, and rip rap areas. They also frequent outside weed bed areas. Of course our Large mouths don't grow nearly as large as the ones down south, but we do catch many in the 6 pound range. We use jig and pig, drop shot, and plastic worms. In the weedy areas we use spinner baits, chatter baits, jig and pig, senko type worms and some weedless topwaters. It does seem like we do catch more quantity in early fall and more quality ones later in the fall.

Pike

It seems to be the same with our Northern Pike, the later the bigger. We've been catching quite a few Pike in the 10-20 pound range in the late season, using suspended jerkbaits, soft jerkbaits, spinnerbaits and inline spinners. It is definitely trophy time for those guys!!!!!!

Salmon and Trout
When water temperatures drop to the low 50's our Smelt and Alewives come near the surface and along the shoreline, followed by our Landlocked Salmon, Lake Trout, Browns and Rainbows, which feed on them. Most of our Salmon fishing is done by trolling with fly tackle or ultra lite spinning with 4 to 6 pound test line, right on the surface, sometimes right in the prop wash. We use streamer flies and small spoons and small rapala type lures. With this surface trolling , when the fish hit, we just stop the boat and play the fish in, which is a lot of fun!!! We also catch quite a few Browns and Rainbows this same way. Also, at this time of year some of these Salmon and Trout go up the rivers to spawn so you can wade fish for them, using mainly streamer flies. For the Lakers we also flat line right behind the boat using bigger spoons and rapala type lures. But what is also more fun, is that in certain conditions we cast and jig for them just like fishing for Bass. Late October thru November there are many days we catch Bass, pike, Trout and Salmon, all in the same day. Here are photos of our fisherman from "Last " fall and if you look close you will see the same guys a number of times, holding different species of fish!!! Again, all in the same day.
Summer Fishing

A number of guys emailed and called to inquiry about booking a summer fishing trip. I do have to be honest with them on the fishing here this summer. It is tough for Bass and Pike. Fishing in the summer, as it is in most areas of the country, is tough. We don't catch many fish in mid-July to mid-September time. The fish go deep and spread out, so just finding them is a chore. But, we almost always get them. Many guys expect to catch the same quantities as we do in the spring and fall months but that is just not going to happen. I never want to turn anyone away, but you do have to be honest if you want be people to return, right?!!! Deep water trolling for Trout and Salmon is the most action fishing in the summer months here. For quantity and quality NOW is the time to come.

Well, guys i guess that's it for now...I'll keep you updated on what's going on. Hope to hear from you soon, now is the time to book you know, it is a l-o-n-g Winter Ahead!!!

Bye for now
- Pete