LPL Update - February 2016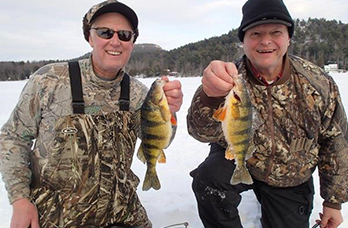 WE`RE OUT THERE", COME ON UP!!!
Hi everyone,
Very sorry about the bad weather you've been having. We've had great weather and I must say, It is much nicer to watch the bad weather on TV than out my Window!!
We havent had many ice fishermen this winter so far, probably because of the weather and most ice fishermen don`t think we have ice, but we have plenty, and no snow on top of it. Right now we have over a foot of ice and we should be good right thru mid March. Even some of the protected bays on Champlain have good ice.
Just wanted to let you know, "WE`RE OUT THERE", COME ON UP!!!
If you can`t make it, hope you can come to see us at Oaks, PA show on Feb 25th thru the 28th or the Suffern, NY show March 10th thru the 13th
Hope to see or hear from you soon
Pete