LPL Update - January 2016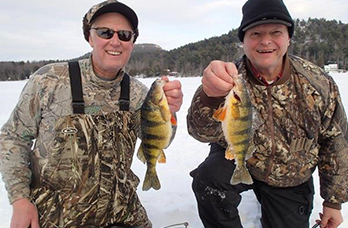 We have ICE!!! Book NOW!
Hi everyone,
Guess what? We have "ICE"!!!!
As of this writing, Dec 30th, We have about 1 to 2 inches of ice on Long Pond!! I've been watching a family of otters and other small animals walking across the ice out back. The long term weather forecast is for temperatures to be in the mid teens at night and in the low 20's in the day so by the weekend of Jan 8th we should have enough safe ice to ice fish!! This is our latest start "EVER"?! Lake Champlain`s water temperature is still in the mid 40`s which is WAY above normal??! It will be at least 2 to 3 weeks before the big lake will be ready to ice fish.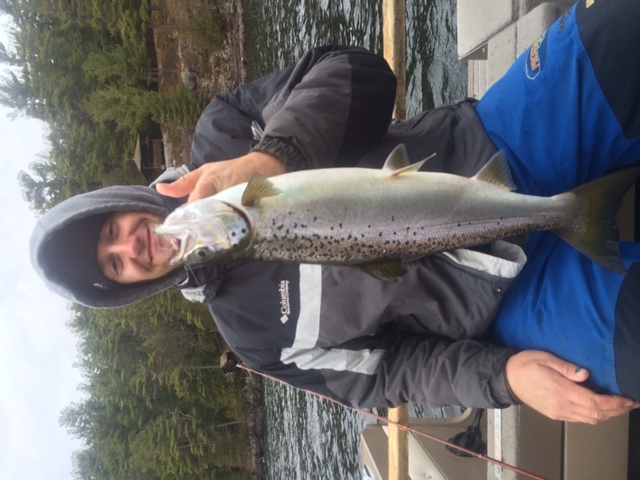 2015 A Crazy Year
2015 was a strange year, not for just us, but for the rest of the WORLD?!! This spring was so cold that we had to open up the fishing season two week later. Also, the lakes and river levels were at one of the lowest levels I have ever seen and they continued to drop through out the year?! So much so, that many of our best fishing spots were completely out of water? Except for the summer, 2015 was also windier than ever. As you may have seen in our previous updates, In spite of all of that, as far as the fishing was concerned, last spring turned out to be one of our best ever!!?
The water temperatures this past spring took a long time to warm up so the fishing was very good right thru July. After that, the rest of the summer was very hot and the fishing was very slow. Lake Champlain`s mean temperature was close to 80 degrees and remained there right thru Sept. The fishing from early Oct thru mid November was excellent for big pike and largemouth with lots of pike in the 15 to 20 lb range and a lot of nice 4 to 6 pound largemouths. But the trophy smallmouth time never occurred this fall? Usually they school up and we are catching numbers of 4 to 6 pound plus fish, but it didn't happen?! Maybe the water was too warm to get them to feed, I don`t know? I know, the lake Champlain temperature is still in the mid 40`s, as it was in early November! As you saw in our last months update we did catch some great smallmouths but the fishing was like one here and one there, no schooled, feeding fish. We did have some great late fall salmon and trout fishing on the big lake. Up until a couple of days ago we caught limits and limits of of the trout and salmon just flat-lining right on top with flies and lures fished right in the prop wash behind the boat with very light line. Lots of fun!! I finally put the big boat away on Dec 26th, that`s weeks after I normally do! This winter, if we just have normal snow pack and if we just have normal spring rains we should have a tremendous trout and salmons runs up the rivers this coming spring, so keep that in mind!! As you can see by these photos from this past month we did very well. We would have even done better if it wasn't for the WIND?! We could only get out maybe 1 out of every 4 days. I`ll have some nice smoked salmon for you when you come to the show guys!!
Show Time
Speaking of the shows, here is our show schedule for this winter.

January 29th – 31st Boxborough, MA
Feb 25th – 28th Oaks, PA
March 10th – 13th Suffern, NY

I hope to see all of you there!
Ice Fishing Time
If any of you guys were planning on coming up to ice fish with us this winter, I suggest you give me a call as soon as possible cause we have lost a couple of weeks of the winter already and we only have so many weeks left until spring.
As I do every year I am offering, for the guys who have never ice fished before and would like to learn, for just the price of the lodging and meals, I will personally show you how. I will supply all the ice fishing equipment and give you instructions on the ice at no extra cost. At the end of your stay you will know how to do it and if you like it. Over the years I have taught many guys how to ice fish and almost all loved it!!! The only thing you have to bring is yourself and some winter clothes. The only extra cost would be the price of live bait. Our basic weekend package is 3 days ice fishing on Long Pond/ 2 nights lodging at Long Pond Lodge/ and 4 meals, all for $235 per person and you can`t beat that.The only other stipulation is that it has to be done on days when I am not at one of the shows. If you are interested, give me a call 518-963-7351.
Many Thanks
As we start our "38th" year in business, I would like to thank each and everyone of you who came up to fish with us this past year and all the years previous. Some of you have been with us for over 30 years!!!! My family, myself and everyone at the guide service can`t thank you enough. Hopefully, we`ll have many more great years of fishing to come!!
Well guys I guess that is it for another update. I hope to see you up here for some ice fishing and/or see you at the shows.
Take Care and Happy New Year
Pete