LPL Update - October 2015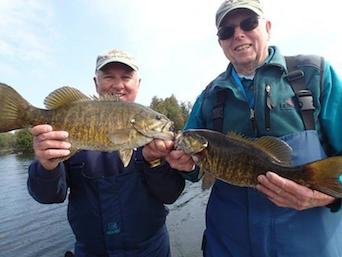 We still have openings for fall fishing!
Hi everyone,
Well is it fall yet?! Each year the "FALL" bite gets later and later?! This past month has really been SUMMER conditions, "TOUGH" fishing!! Even though these photos are from these past couple of weeks are great, it really doesn't reflect how hard the fishing really was!! We only averaged 20 to 30 fish a day which is really slow for us. You know, one fish here and one fish there and a long time in between makes it a long day. But now that's over and the water temperatures are going down and the fishing is HOT!!!
Arctic Trip
Here are photos from our annual Arctic trip this year. If you like catching giant Brook Trout, Lake Trout, and Arctic Char this area is probably the very best place in the world to catch them. And I do mean CATCH THEM, almost a fish on every cast!! Every now and then it is nice to go to a place like that, huh?! Just look at the colors of these fish, beautiful huh?!!! You might want to put this on your "BUCKET" list. Its High Arctic Adventures and their # is 802-525-6266. Ask for Joe or JoAnn and tell them I sent you.
Fall Fishing Ahead
As I mentioned, the Bass and Pike fishing is really hot right now and will be until around mid November. The trout and salmon fishing usually starts around late October and goes right thru mid December. Most of the biggest fish of the year are caught in the fall, no matter what species you are after.
If any of you guys are thinking of coming up to fish with us this fall, and haven`t booked, as of this writing, the only weekends we still have openings are the weekends of October 30th, November 13th, and November 20th. We do have a number of week days still open and you can call us for those 518-963-7351.
Well guys, LUNKER TIME is upon us, hope to see you all soon.
Have a good one
Pete