LPL Update - June 2015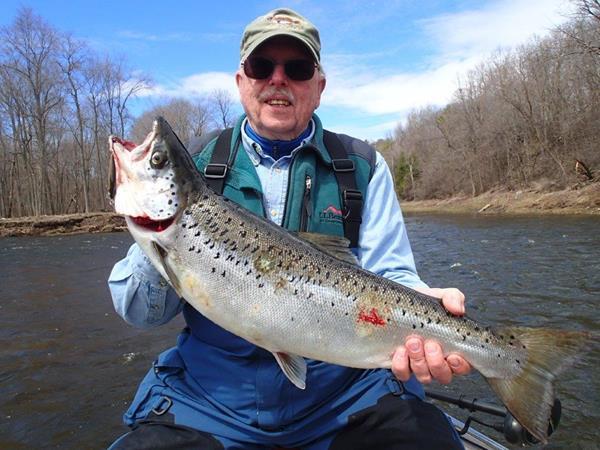 We still have dates open in June and July you know, so come on up!!!
Hi everyone,
Well after a slow start in April, the fishing really took off!! Every year for the past ten years, the "Lipscomb"party comes to fish with us in early May. I don`t know how they do it but they always bring PERFECT fishing weather, and this year was no exception?! These eight guys come from all over the country and they are really into their Smallmouth fishing. "Every" fish is weighted and recorded and here are the totals for their week of fishing here:
6 DAYS 8 FISHERMEN
1,707 SMALLMOUTH BASS ( 71 PER DAY/ PER BOAT)
151 OVER 4 POUNDS AND 18 OVER 5 POUNDS
That is truly Amazing!!!!!
The rest of the month was also great fishing but not nearly the good weather. It`s been very windy and temperatures fluctuating 20 to 30 degrees up and down the whole month?! But, what fishing!!!!! Look at these photos from this past month!!!! Smallmouths, Pike, Largemouths, Salmon, Lakers, Walleye, Browns, Rainbows, and Drum. Many of the photos you see of the smallmouths, trout and salmon were caught from "SHORE". The lake trout and salmon fishing has been fantastic as it was over 20 years ago before the lampreys came, and I really missed that fishing cause they are so much fun when caught casting or trolling for them in shallow water. all this shallow water fishing should be great right thru June.
LONG POND
It took a long time for our lake, Long Pond, to turn on, but now, it is really HOT!! The guys fishing out back have been catching dozens and dozens of bass and pike in just the past few days, so you guys coming up in the next couple of weeks are going to have a great time!!!
Well guys, I have to get back fishing so I hope to see you all soon. We still have dates open in June and July you know, so come on up!!!
Bye for Now
Pete