LPL Update - May 2014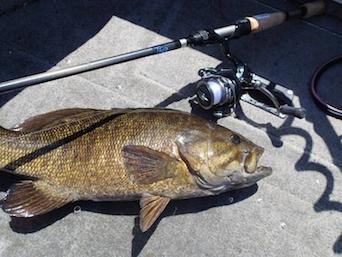 The first 2 weeks of the season have been very slow, but it is finally coming on!
Hi everyone:

Well, is it spring yet?

Looks like we've all had a miserable year so far, especially in the east.

The first 2 weeks of the season have been very slow, but it is finally coming on!
These photos are just from the past couple of days. It is finally looking good. The waters have been warming up very slowly and the fish are starting to come in. In the spring, it doesn't matter how cold the water is (it could be in the mid 30"s) as long as temptation is steady or rising, the fish will feed like crazy. But if the water temps drop, even a degree, they will stop feeding. These crazy up and down weather systems have really slowed things down, but it looks like it is finally changing. Right now the bite is on. Tubs and jigs fished slowly on the bottom and suspended jerk baits twitched with long pauses have been getting most of the bass and pike right now. The streams are loaded with trout and we are doing very well on spinners and spoons. For those of you who are coming up in the next couple of weeks make sure you are stocking up on these lures.
If any of you have been planning on coming to fish with us and have not booked yet, please give us a call. Right now we only have a few dates left in May. Most weekends are booked in June, but we have plenty of weekdays still available. Late June, right after school is out, thru mid-July is a great time to bring the kiddos up for some fast action.
Well,guys I know this is a short newsletter, but I PROMISE we will have a lot more photos in the next update and that's "GUARANTEED."
Hope to see you all soon.
Pete