LPL Update - January 2014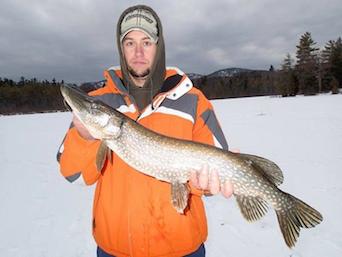 We have 12" of Ice on the Pond!
Hi Everyone:

I hope you enjoyed the holidays. It is hard to believe another year has gone by us so quickly. And believe it or not this coming year will be our 36th year in business! Where did the years go. Right now we are well into our ice fishing season, as of this writing we have over 12 inches of ice, which is very surprising because of the exceptionally warm fall we had. I was really expecting the ice to be late. It seems as if it got cold over night, but the weather has been like that all year.!! When you really think about it, the weather has been that way for a number of years now, extreme up and down temperatures all the time with lots of wind!!! I guess this really "IS" going to be the norm.
Looking Back
As I said this past year had it's ups and downs. Lat April thru mid June was definitely an up time. Even though the water levels were low and most shoreline structure was way out of water, fishing for all species was very good!! Those who fished the inland lakes and ponds also did very well. The rain finally came in June bringing record levels for that time of year. I remember we had a big salmon run at the end of June. The run, was well over a month late and there was no one here to fish for them. With high water, July would have been a good month if it wasn't for record high temperatures (in the 90) for many days. Water temperature rose ten to fifteen degrees in less than a week and the fishing got very tough.!! For the rest of the summer we hardly got a drop of rain. By the fall water levels were the lowest I have ever seen for that time of the year, but the fishing was great. We had consistent fishing for bass and pike from late Sept. right into Nov. with hundreds of fish caught and released. Most of the bass were between three and five pounds and the pike were between eight and fifteen pounds. But we did not catch ONE smallmouth over six pounds this fall. Probably the first time ever!! I am sure the reason for this was the fall feeding frenzy, just didn't happen. By the time we put our boats away for the season, which was late Nov., the surface temperatures were still in the high 40's and low 50's, which was still quite warm. Then guess what, two weeks later we were ice fishing!!! 'UNBELIEVEABLE' On Dec. 16th it was 20 degrees below zero. Anyway we have hundreds of photo's of you guys with some fantastic catches from this past year, which we will have on display at the shows.
Shows
Speaking to the shows, here are the ones we will be doing this year. Hope to see you there.


Feb. 6th=9th Worcester, Mass
Feb 13th-16th Oaks, Pa.
Feb. 27th-Mar 2 Suffern, NY
Ice Fishing
Right now most of the inland lakes and many of the shallow bays on Lake Champlain are already frozen over with plenty of ice. Our place, Long Pond Lodge, is a great central location fishing and ice fishing. Long Pond is itself a great ice fishing lake, with lots of action for perch, crappie, sunfish, pike and bass. (Bass are catch and release only in the winter). Just a couple of miles down the road is Willsboro Bay, which is part of Lake Champlain and has perch, smelt, lake trout, and landlocked salmon. So with in a few miles of the lodge you can ice fish for most fresh water species. Also, just west of us we have hundreds of lakes and ponds in the Adirondacks to ice fish all within an hours drive of the lodge.

Here are our UNBEATABLE* ice fishing packages for 2014:


3 days fishing/2 nites lodging/4 meals
All for $225.00 per person
4 days fishing/3 nites lodging/7 meals
All for $325.00 per person
5 days fishing/4 nites lodging/10 meals
All for $425.00
*with your own gear,tackle, and bait
** price is based on a party of two or more. Parties of one extra charges

Special
For all of you who have never ice fished and would like to try-it out I have a special I offer every winter. I will personally show you how it's done. I will supply all equipment and guide you at "NO CHARGE" on Long Pond. You just pay the lodging and meals package and live bait. By the time you leave, you will know whether you like ice fishing or not and whether you want to invest in ice fishing equipment. The only catch is that it can only be the dates that I am NOT attending a show. I'm sure you will have a great time and the price is right!
Thank You
On behalf of all of us at the Adirondack Champlain Guide Service, we would like to thank each and everyone of you who have come up and fished with us this past year. Without you we wouldn't have lasted 35 years in business. Many of you have been with us almost as long as we have been in business. We can`t thank you enough.

Well, guys, another year has started, hope to see you here for some ice fishing. If you can't make it up this winter, I hope to see you at the shows.

HAPPY NEW YEAR!

-Pete