LPL Update - July and August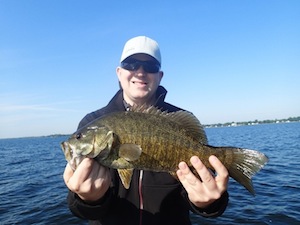 Well, the drought is over!
Hi Everyone!
Well, the drought is over! I guess that`s a real understatement, huh? We received our spring runoff about 2 months late, and Champlain is at max flood stage right now?! Believe it or not just last week the Salmon were running the rivers, and that`s unheard of, since the run is usually in late April and May?! The local fishermen have been catching Landlocks up to 10 lbs in the rivers, and believe it or not, on "Live Worms!"
As you can see by these photos from this last month, the guys had some really great catches!!! even though the water temps were in the 60`s which is perfect, many days it was pretty tough going. We didn`t get nearly the quantity we usually do for this time of year? I`m sure it had to do with all the rain. But, most everyone caught trophy fish, so that is good. On the other hand, Our lake Long Pond, the fishing was great!! I believe most of the largemouth photos you see hear were from our lake.

In the recent trout and salmon tournaments on lake Champlain, many 10 lb plus Landlocked Salmon and 15 lb plus Lake trout were caught! They are finally getting big. Also there were a lot of catches of Browns and Rainbows over 5 lbs!! I`m sure it is because of the now abundant alewive, which is an invasive fish from the Great Lakes which the trout and salmon love, and feed on.
Summer Fishing
Now that the weather has moderated a bit and the water temperatures are more like Spring then Summer the bass and Pike have really turned on in the past couple of days. As of this writing, the fishermen who were out yesterday averaged over 40 fish per boat, and that`s more like it!! It would be real nice if it continued all summer but Mother Nature has a way of catching up. I think the rest of July should be good because the water is still cool and will take a while for the water temperature to go up to send the fish out to the deep. Once the Bass go deep, they spred out and are difficult to keep track of. Except for the "Dog Days," August and September produce big Bass but not many. On the other hand, if you like to deepwater troll for trout and salmon, August and September are some of the best months to do that. If you have a deepwater boat and would like to fish the big lake and if you stay at our lodge, I will personally direct you to the current hotspots and the lures they are hitting on. If you would like a guide to take you out, we have guides who special in that. The next newsletter we should have some really good photos of trout and salmon! Can`t wait!

Ok guys, hope to hear from you soon and if you can`t make it up this summer, try to make it up for the Fall. It`s my favorite time of year for the biggest fish of the year.

Bye for now,

Pete