LPL Update - March 2013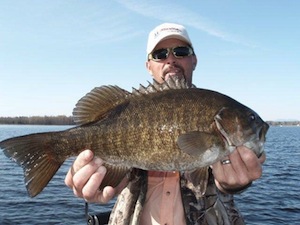 Are you ready for the spring? I know that I am!
I'm tired of talking about fishing and I am now ready to do it!
I want to thank all of you who stopped by to see us at the shows, which you all are definitely the most fun enjoyable part of doing these shows. I would also like to thank the many ice fishermen who came to visit us this winter. We had the busiest ice fishing season we've ever had. I hope all of you enjoyed yourselves and are planning on returning again next year.
Spring Fishing
This year we are opening up on April 19th, which is about a week earlier. Last year when we opened we found that the water temperature were about 10 degrees warmer than normal. So we probably missed some good fishing earlier. If we have a good melt off from the mountains and some good rain, the landlocks should be up the rivers and along the shorelines in April and May. The population of salmon, lake trout, browns, and rainbows were really up last year and many size records were broken for Lake Champlain. Also our inland lakes produced some great catches of salmon and lakers too. So whether you like to wade fish the rivers or fish from a boat you can't beat may and june for shallow water fishing for our trout and salmon. Even though the water temperatures in april are in the high 30's and low 40's it is a great time for smallies, which most guy's don't know!
Kayak Fishing
Probably the biggest thing in fishing the past couple of years is the kayaks that have been specially designed for fishing. Now there is a whole new group of fishermen. That can really benefit fishing in our area. We have so many lakes, ponds, streams and rivers that they can kayak fish, that we as guides, can't get to! For those of you who kayak fish, come on up, do I have some places I can send you to! The spring, late April thru mid July is definitely the time of year for the most fish "action", if you are a top water fanatic mid may thru mid June, for dry fly fishing the rivers have been the best for trout. In recent years mid June thru mid July is best for top water for largemouths, smallmouths, and pike. 
If you like deep water trolling with downriggers June right thru summer is great. Bob Davies, our deep water trolling guide did excellent last year as many of you noticed from our photos at the shows and previous updates.

For those of you who bring you own boats to fish for the salmon and trout on lake Ontario, i think it's time you tried us on Lake Champlain. The salmon are landlocked Atlantic salmon and are not the size of the pacific salmon on the great lakes, but they are fun and they can jump, and they are delicious!! We also have great lake trout fishing too. You guys can stay at the lodge. We have parking and electric for your trucks and boats and I will definitely supply you with the best information on where the fish are and how to get them. For the first timers it is always best to have one of our guides for a day first but that is entirely up to you. We know the cost on "everything" is up, but you still can't get a better deal then we give: 3 days fishing, 2 nights lodging, and 4 meals. $225.00 can't beat that!!! Don't forget that includes the use of a boat on long pond. Come on up.
Book Early

As of this writing most weekends in May and June are booked but there are still some openings. If you can come on a Monday through Thursday, we do have a lot of openings still there. For those who booked a while ago and have not sent a deposit or recently confirmed and are still coming, please give me a call, 518-963-7351.
Ok guys, it's time for fishing so get your gear ready!
Bye for now

-Pete