LPL Update - April 2017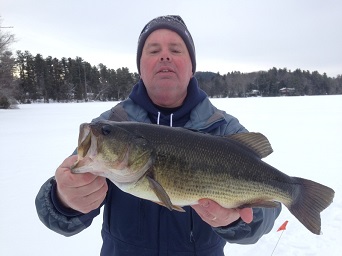 Spring??
HI GUYS
Well, here we are, spring 2017. For sure i is 2017, but as far as spring, I'm not sure?!!! 40 inches of snow or not, we are opening the 3rd week of April!
We had a perfect ice fishing season .We had plenty of ice and expect for only one weekend, we had no snow on the ice which made it so enjoyable. Here are some of the photos since last months update.
As i just mentioned, we just received 40 inches of snow and I am pretty sure it won't last long. BUT we really needed it. We also received quite a bit of snow in the Adirondacks and Green mountains in the past month so I think our severe drought might be over. Also with the snow melting, Champlain and the rivers that feed it should be nice and high for some great spring fishing.
SPRING SALMON
Our big lake, Lake Champlain, has been open most of the winter and some fishermen are already catching landlocked salmon along the shore lines.
As soon as the mountain snows melt Lake Champlain's lake level will rise and back the mouths of the rivers up for a couple of miles. That is when the landlocks, browns, rainbows and even some lake trout come all the way up to the first barriers. It is great bank fishing for them and the rivers are also deep enough for small boats. Early spring is also a great time to fish from Kayaks!! It will be great to see this type of fishing again, we haven't had these conditions in a couple of years because of the drought so I'm really looking forward to it. This type of fishing is good right thru mid June.
SPRING SMALLIES
Almost at the same time, smallmouth Bass come in from the deep to feed in the shallows and up in the rivers. Even though the water is in the 30's and spawning isn't for another month, these fish are "feeding".
They are in tight schools, you might catch 20-30 or more in one little area!!!! Many days in April-June time we catch and release 80-100 "or More"!! It is the most action time of the year. With a high water spring, trout, salmon and smallmouths are all together. Many days we are catching salmon on smallmouth tackle and smallmouths on salmon and trout tackle. It's great, pound for pound, two of the most fighting-est fish in fresh water, are together in the same area at the same time!!!
"FANTASTIC!!
SPRING PIKE
Northern pike spawn right as the ice is going out and for sometime after they go dormant probably to rest, They really don't start to feed again until around the mid may time period. They come in to the shallows to feed on the spawning sunfish, perch and bass and are shallow right thru early July. Since the lamprey control has come into effect the pike fishing has really taken off again and soon we should be back to the great pike fishing we had in the 80's, I HOPE. We caught more 15 pound plus like last year than any other time I can remember, and that's a
long time ago. Remember, I've been doing this for over 39 years.
LAKE TROUT
Except for early runs up the rivers, lakers really don't show up along the shorelines until late May. From then till mid June you can catch them casting from shore or trolling spoons and rapala type lures, in usually less than 10 feet of water. Again, because of the lamprey control we caught more lake trout over 10 pounds then we have ever caught.
You know, the lamprey control program is run by the federal fish and wildlife service. We definitely don't need federal cuts in that program.
STREAM TROUT
The adirondacks have hundreds of miles of trout streams and ponds to fish. Many of the small streams have native brook trout. They are not big but are always fun to catch and their colors are outstanding. The large streams and rivers have plenty of browns and rainbows and it is really good fishing right thru June. When I first started guiding many years ago, stream fishing was the most popular. Now it is way down the list??!! Everything changes!! If any of you guys would like to do that type of fishing we do have guides for that. It does require some hiking. Here are some photos from last spring 2016
OUR SPRING BOOKINGS
As of this writing we still have a few spots open on weekends in April, May and June but if you could come during the week we have more dates available.
LONG POND FISHING
May and June are probably the most "action" times on our lake, Long Pond. Last year, because of the low water, the weed growth was right up to the surface which made fishing a little more difficult than usual.
Hopefully, with much thicker ice this past winter and the spring run off we are expecting the weed growth to be back to normal.
Well, I don't know about you, but I don't care if I Use a jig, or a jerk bait or just a plain night crawler, I'm ready to wet a line!!
Thanks guys, hope to see you soon.
- Pete